After learning how to extract Sims using SimPe and Sims 2 BodyShop, I decided to share them for
pixel_trade and any Sims 2 player who wants them. :D

Elizabeth Casonia Sim:
I have my first Sim to share. :) I originally made her in CAS in Castaway Stories, but I have extracted her to put in Sims 2 using SimPe. Her clothes from Castaway wasn't included so she's now wearing clothes from the H&M pack. The only custom content was a LaPink/Iced Mango hairstyle with a XM Sims mesh.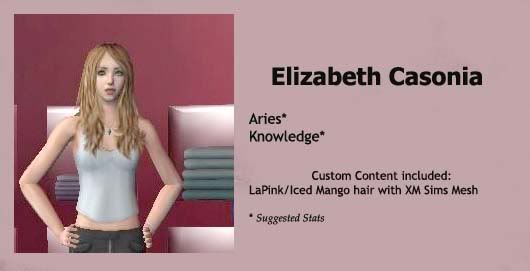 Download

Lily Anne Pleasant
My second Sim to share was also originally made in CAS in Castaway Stories. I used SimPE to extract her and to put her in Sims 2. Lily Anne is currently in Uni in my game. :D BTW, she is dressed in a base game outfit and is a teen. Please feel free to age her up to Adult or age her down to either a toddler or a child.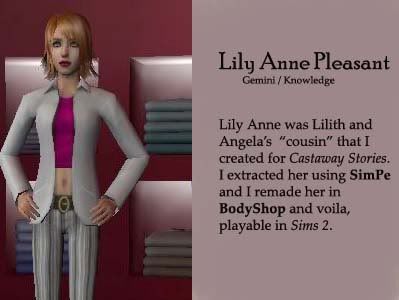 Download

Molly Alien
My third Sim to share is an alien that I made using Asties's Galaxy Explorers Skin and
selzi's edit of a PeggyZone hair. I dressed Molly in base game clothing and she's an adult in my game. I used SimPe to extract her for sharing purposes. Anyway, please feel free to use her in legacies and any game challenges. I would love to know what you did with her.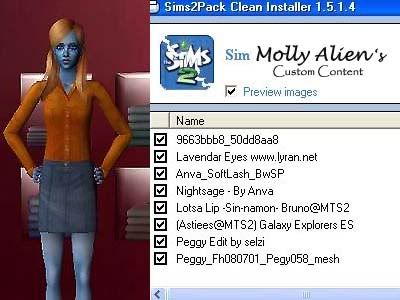 http://www.mediafire.com/?fw6amio0e7k


You're feel to use her and do anything do to her.
pixel_trade can use her for their challenges. Of course, I would LOVE to see pics of her!

~Erin